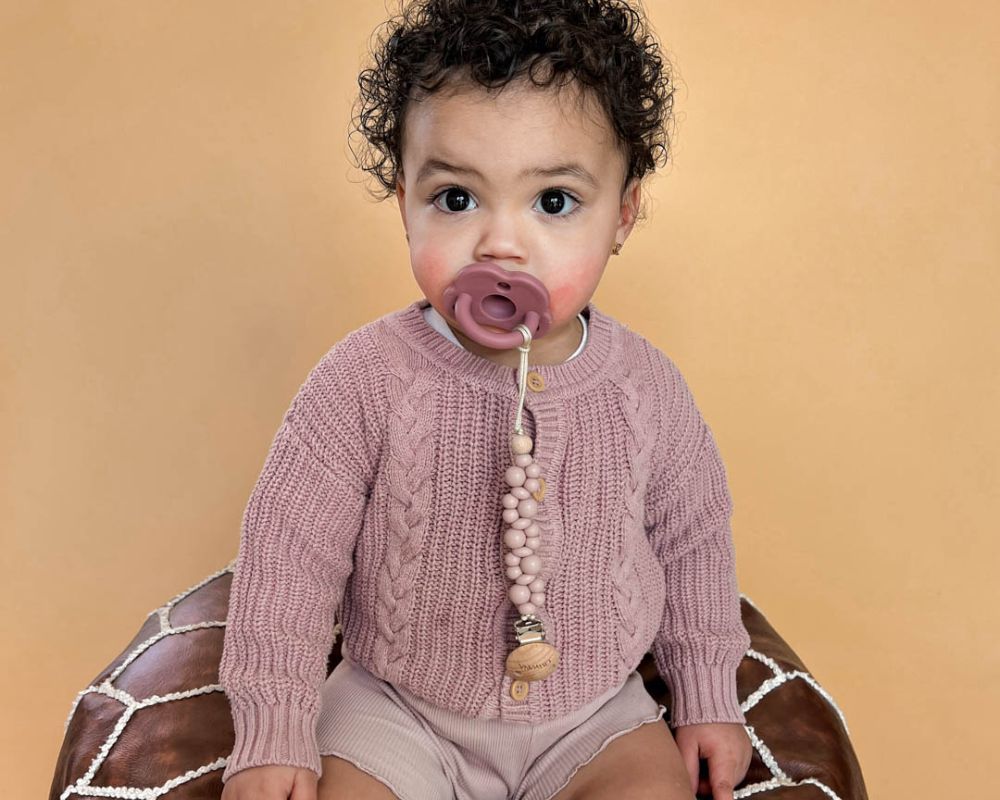 Baby Essentials To Stock Up On: A Checklist For New Parents
The excitement of being a new parent can make you plan out everything beforehand. However, whether you are stocking up before or after the arrival of your baby, there are a few baby essentials that you need to add to your checklist. From a silicone pacifier and teether to bibs, the list goes on and on! Becoming parents for the first time can be overwhelming at times, and not having these essentials by your side can make parenthood much more difficult for you. So, make sure you are equipped with the baby products mentioned below.
Baby Essential Checklist For New Parents
Relieving Teether
You may have noticed a few months-old toddlers putting everything they can get their hands on into their mouths. Teething is one of the most common reasons for this particular behavior. It often indicates that your baby's first few teeth are growing. Though it is a great milestone in the development of your baby, it can also be painful at times.
Thus, for babies who are in the teething phase, biting into something is a way to explore the sensation as well as reduce the pain caused due to their swollen gums. That's when a teether comes in handy! A silicone teether can provide significant relief to your teething baby.
Comforting Pacifier
Sucking is yet another common habit of babies. The truth is that sucking helps in triggering a baby's innate calming reflex. Thus, newborns like to suck on pacifiers to soothe themselves. It lowers blood pressure, heart rate, and even stress levels. It's quite remarkable how much pleasure a simple pacifier brings to your baby, keeping them calm throughout the day!
That's the reason why most parents turn to a silicone pacifier to pacify their crying babies and encourage them to sleep. So, make sure to have a pacifier at hand when your little one is in discomfort. It is sure to relax your fussy baby while providing additional comfort. Do not forget to shop for pacifier holder clips to avoid losing pacifiers and prevent them from falling.
Baby Bibs
Bibs are one of the essential baby supplies that parents need for their growing babies. A baby bib is a material or garment that your tot wears to protect clothing and delicate skin from accidental food or drink spills. It will keep them absolutely clean as they have their meals. Moreover, it is not necessary to put a bib on your baby while feeding only. Instead, it can be used for infants when they drool, which can happen a lot, especially when they are teething.
Therefore, you do not need to wait to buy a bib when your baby starts eating solid foods. Even if your infant is just a few months old, you can use the bib to prevent the saliva from dropping on their clothes while drooling. A silicone baby bib that is easy to clean can make your baby's mealtime fun.
Fork & Spoon Set
You are likely to use a spoon to introduce solid foods to your baby for the first time. But as your baby gets more confident with feeding, they tend to make an effort to take matters into their own hands by grabbing the spoon. This is the time when your toddler is growing and learning eating habits. You can expect your little one to be a spoon-and-fork novice for some time. However, they can start using these utensils while creating less mess somewhere between 18 to 24 months.
Around this period, your tot will learn to use spoons and forks more consistently. Therefore, a spoon and fork set can be a great tool to make the transition from feeding to independent eating easier. It is better to stock up on a baby cutlery set that is easy for little hands to grab and gentle on gums. Besides, it can also help develop your kid's motor skills.
Suction Plate & Bowl
Once your baby starts eating, you won't only need spoons and forks but also plates and bowls. Baby tableware which is easy to use, is a must for new parents as it streamlines the feeding process. Furthermore, when it comes to monitoring your baby's food proportions, a divided silicone plate and silicone bowl are the way to go! The divided sections are also great for picky eaters who prefer their foods to be separated.
An appealing divider suction plate made with food-grade silicone material will make the mealtime with your tot much more manageable. Moreover, a silicone suction bowl can make self-feeding a seamless experience. Shop for a suction bowl with a slightly rounded edge and a flat surface base to avoid food splattering.
In Conclusion
So, whether you are waiting for soon to be a new parent or have already become one, make sure you are stocked up on the baby essentials mentioned above. These products will not only streamline your journey as responsible parents but will also contribute to your baby's growth and development.
Moreover, these baby essentials will allow you to create long-lasting memories with your little ones. They will help you effortlessly get through those first few months with your new bundle of joy. Omwaana is your one-stop destination to find the best-quality, user-friendly baby essentials such as bibs, teethers, utensils, pacifiers, and more. Visit the store now to explore more!
Happy Parenting!!