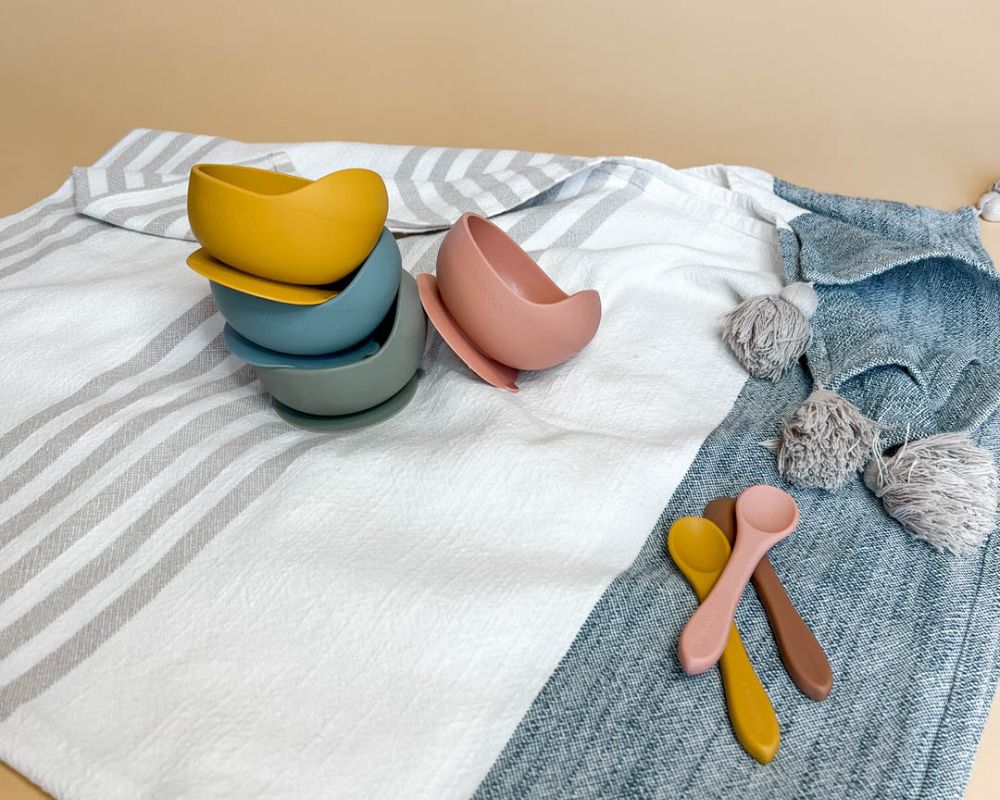 A Parent's Guide to Buying Baby Tableware
When it comes to feeding your little one, having the right tableware is very important. From basic tableware like baby fork and spoon set to more advanced items like sippy cups and more, there are so many things in the market. With all these options around, choosing the best option for your baby can be overwhelming. From safety to practicality to convenience and style, you will want to make sure that you are making the right choice for purchasing baby tableware . For that, it's important to explore the factors to consider when purchasing baby tableware . In this blog, we will discuss some key factors that we should know when picking out baby tableware.
Here's What To Look For When Buying Baby Tableware
One of the biggest things to keep in mind when shopping for baby tableware is the material. We all know safety is an important factor. Therefore you must buy baby tableware that are free from PVC, lead, phthalates, BPA, and other harmful components. Additionally, we must understand babies are particularly sensitive and can react to rough and soft materials. Hence, look for tableware that is made from soft and flexible materials. Silicone is a safe material for baby dishware and thus buying Silicone Suction Bowl, plates and other dishware crafted using this material is quite a good option.
Size
Babies take smaller bites, so it makes sense to keep in mind the size of tableware . So when you make up your mind about what to look for when buying baby tableware , look for small and rounded tip tableware .Tableware should be small enough for your baby to hold and maneuver easily. They should also be able to reach food that is on the plate without the need to stretch or strain. Especially when looking for baby bowls, look for shallow bowls that will help your baby scoop out food easily.
Good Grip
We all want our little ones to develop motor skills, and learning how to hold spoons, forks and baby sippy cup with straw is one big part of the same. As your baby begins to learn some grip strength and hand-eye coordination, it will need tableware to make the process easier. Therefore you must buy tableware that will fit better in your baby's little fit, making it easier for them to hold on. On the other hand, if you feed them yourself, then a longer handle spoon will be beneficial for both of you.
Design
Another important factor we must remember is the design of the tableware . You should go for tableware that is comfortable to use and easy to clean. In addition to that, go for tableware that comes with smooth and curved edges so that they won't irritate your baby's sensitive gums. In the market you can also find suction plates and bowls that are dishwasher friendly and also help prevent spills. Moreover, baby tableware comes in fun shapes, colors and patterns, so you can find the perfect set to match up with your baby's personality.
Safety
Lastly, safety should always be at the top of your mind when it comes to buying tableware for your baby. Baby tableware should be made from materials that are not harmful and are free from sharp edges and points. Tableware options that are safe include silicone plate dividers, suction bowls or other options made using safe silicone. Additionally, as a parent, you should also ensure that all pieces of the product are securely attached. As it could pose a choking hazard. Additionally, it's important to make sure that the tableware is easy to clean and that they won't harbor bacteria or other germs.
TAKEAWAY:
In conclusion, when selecting baby tableware, be it a simple baby bowl or silicone baby bibs, it is important to consider various factors, such as size, material, and shape. By considering these factors, you will ensure that you are getting the right tableware for your baby's needs. With the right tableware, your little one will be able to enjoy mealtime safely and comfortably. At Omwaana, you can find a wide range of baby essentials of top quality and assured safety. From cute baby sippers to spoons and pacifiers, find it all here.