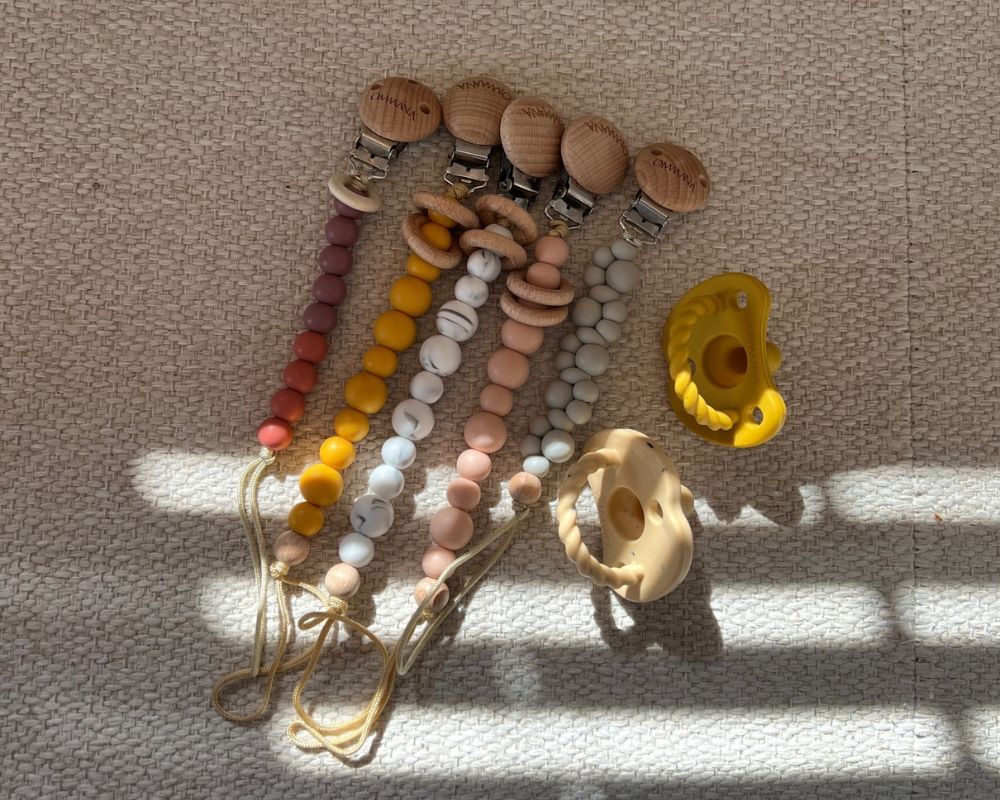 Must-Haves For the Newborn Nursery
Preparing for the birth of a new baby can be an exciting and daunting time for new parents. While there is so much to do in the months leading up to the birth, one of the most critical tasks is to get the nursery ready for your little one. From the essential silicone baby bibs to teethers and pacifiers, it can be challenging to know what must-haves are necessary for the newborn's nursery. So, in this blog post, we will explore must-haves for the newborn nursery that will make life with your little one more simplified and enjoyable.
Top Essentials You Must Add To Your Newborn's Nursery
Omwaana Pacifier Clips For Babies:
Make your every day a little easier with your arriving baby with our baby pacifier clips. These pacifier clips are essential for keeping your baby's pacifier safe and within reach. They come in a variety of colors. Rest assured that our pacifier clips are durable and won't break. Also, all the Omwaana pacifier clips are easy to clip to any fabric and won't fall off.
Omwaana Pacifier Holder Case:
Keep your baby's favorite pacifier within reach with our pacifier holder case. Mix and match from our selection of silicone pacifier clips, like the wooden pacifier clips crafted to curate a personalized set - perfect for teething babies. Our pacifier holder case is a great way to keep parents at ease and have their baby's pacifiers in one place. The pacifier holders are lightweight and have a zipper opening for easy access. This makes it easily accessible for parents to grab when they need to soothe their little ones.
Omwaana Baby Sippy Cup:
Our baby sippy cup with straw is a must-have for any nursery. These will come in handy later when your baby starts solids. Keeping things like water within reach in the nursery will simplify mommy and daddy's time when your little one begins to fuss. They are essential for helping your little one transition to more independent feeding. Constructed from food-grade, non-toxic silicone, this cup features a broad base for increased stability and a removable, interchangeable lid with a straw for added convenience. You are providing your little one with a secure and spill-proof drinking solution.
Omwaana Milestone New Cards:
Organize all of your memorable moments with your little bundle of joy using our baby milestone cards. These monthly milestone cards are made from eco-friendly kraft paper cards and paperboards and are super easy to clean with baby wipes. Our milestone cards are also perfect for a sweet social media post or scrapbook addition. In addition to that, each card is adorned with a cute cloud-shaped or circle design to mark all of your baby's milestones.
Omwaana Baby Silicone Teethers:
Give your little one the relief they need with our Silicone Baby Teethers. Omwaana's sensory teether and wooden ring teether are great toys to soothe your baby's gums and ease teething pain. These teethers are crafted from soft, BPA-free silicone that provide safe relief from teething discomfort. Moreover, the unique shapes, colors, and textures of our teethers help promote sensory development and aid in oral motor skills. The easy to hold shape is also perfect for little hands, while the soft texture is gentle on delicate gums. Therefore, parents can rest assured knowing these baby silicone teethers provide a safe way to soothe their little one's teething discomfort.
Conclusion
Every nursery can be tailored to each parent's specific needs and wants. This is a great nursery must-have guide for new parents who are still navigating everything babies will need before they arrive. Omwaana has a wide variety of products to choose from. To feel confident that you are ready for your little bundle of joy, we have you covered with everything in our collections.